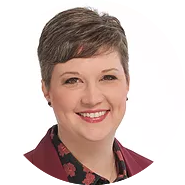 Rachel Pinto, LPC, EMDR II
Rachel Pinto, MS, LPC, EMDR II, is the clinical director of our West Little Rock office. Rachel is a Licensed Professional Counselor (AR# P1608112) who holds a Master's degree in Marriage and Family Therapy from John Brown University. She focuses on helping people find a direction in the middle of complex, frustrating situations and has a deep desire to listen, learn, and speak gently but bluntly about change that can bring healing.
Areas of focus for Rachel's practice include individuals experiencing PTSD symptoms, families adjusting to complex blended family dynamics, and individuals and couples sorting through sexual intimacy, sexual orientation, and gender identity issues. She is a trained trauma therapist who practices Eye Movement Desensitization and Reprocessing (EMDR) therapy with her clients who are experiencing the adverse effects of trauma. Rachel also utilizes Dialectical Behavior Therapy (DBT) with those who desire to reduce extreme anxiety, depression, or anger.
Rachel is a sought-after speaker, teacher, and writer on matters of sexuality, spirituality, relationships, and trauma. In her free time, she enjoys playing musical instruments and having impromptu dance parties with her family. She lives in North Little Rock with her family.