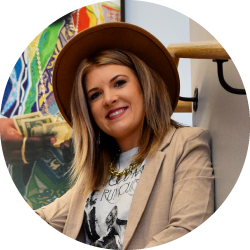 If you are looking to start therapy, you conquered the first step. Therapy is hard work, and I am proud that you're beginning the healing process. In therapy, I blend a strengths-based, trauma-informed approach, while focusing on the therapeutic relationship. My strength in therapy is EMPOWERING you to strive and succeed. I am a Power With therapist, and I seek to understand how to best support you with a warm yet direct and collaborative, nonjudgmental approach. I believe in the power of relationships with the foundation of SAFETY and VALIDATION. I will assist you in processing and identifying the areas you seek growth. You are the expert, and the work starts with you!
I have experience working with school-aged children, adolescents, and adults. Additionally, I have experience working in inpatient acute and residential settings, school-based and community services, and outpatient services. I am trained and soon to be certified in Eye Movement Desensitization Reprocessing (EMDR) for managing the impact of trauma as well as navigating experiences that cause distress such as divorce, job performance challenges, and transitions. I enjoy working with young adults navigating life transitions, grief, LGBTQIA+ issues, anxiety, childhood and adulthood trauma, and adults in complex family dynamics.
Finding the right therapist can be difficult. There are so many different clinicians with various specialties and therapy styles. You're welcome to schedule an appointment and evaluate whether we are a good therapeutic fit. If you have any questions, please contact me–I look forward to hearing from you!