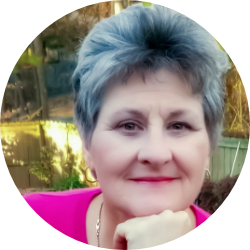 Nancy Mitchell, Medication Management
(MNSc, APRN, PMHNP-BC)
Ready for someone to fully engage in a therapeutic relationship with you? I am an active listener with the time to get to know your story, assist you on your life journey, problem-solve with you, and collaborate on setting goals. I am passionate about helping others achieve their potential using an openminded, nonjudgmental process in a safe, confidential environment. As a psychiatric mental health nurse practitioner, I believe in an evidence-based holistic approach to wellness by addressing physical, mental, emotional, social, and spiritual needs. My focus is medication management with brief supportive psychotherapy, as well as non-medication strategies. I take pride in cultivating a genuine, caring relationship with my clients based on mutual honesty, empathy, open communication, and respect. My goal is to help you recognize your unique skills, strengths, and values in your quest to wellness, health, and wholeness. 
I bring 30 years-experience working with people of all ages (newborns to over 100 years old), orientations, beliefs, circumstances, and backgrounds. I've worked as a public-school teacher, elementary school counselor, swim coach, clinic and hospital nursing, psychiatric paraprofessional, and psychiatric nurse in multiple inpatient and outpatient settings. I'm nationally certified through the American Nurses Credentialing Center, and I am a member of the Sigma Theta Tau International Nursing Honor Society. My experience and education allow me to care for a wide range of issues. I come prepared! 
Don't hesitate to call and schedule an appointment. Dare to live the life you dream! I am fortunate to work with an extremely talented, strong team of psychiatrists, APRN's, psychologists, and therapists at Chenal Family Therapy (CFT). I can provide seamless inhouse referrals for testing, counseling, different treatment modalities, advise, or even to change providers, or we can explore assistance outside CFT. Traditional business hours don't work for everyone, so CFT offers flexible scheduling, including days, evenings, weekends, and technology-based visits. I look forward to meeting you!