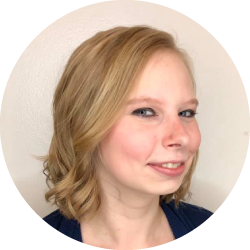 Kelsey King, Intern
(Statewide Telehealth)
Hello! My name is Kelsey King and I am a graduate student intern at the University of Northwestern, where I am currently pursuing a master's degree in Clinical Mental Health Counseling. I am happy that you are courageously pursuing therapy at this time, and I would be honored to join you on your journey.
THERAPEUTIC APPROACH
I am drawn toward an integrative approach that will allow me to tailor my work in a more individualized manner to better meet the specific needs of my clients. That being said, Acceptance and Commitment Therapy (ACT) and Cognitive Behavioral Therapy (CBT) are two meaningful therapeutic models that resonate with me as a therapist in training.
As someone who has several chronic illnesses, I feel like I am uniquely equipped and called to work with others facing similar life circumstances. In addition, other areas of interest include helping individuals who struggle with anxiety, depression, stress, and coping in the midst of challenging life circumstances.
My philosophy to counseling is that you are the expert on your life, and I am here to help you navigate the challenges which bring you to therapy. I hope to foster a welcoming environment for my clients and create a safe space for meaningful therapeutic exploration that cultivates resilience and facilitates personal growth.
I look forward to our work together.