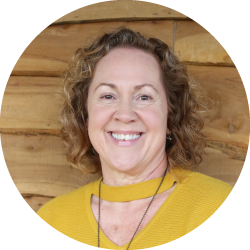 Holly Patterson, Therapist
(MEd, GC-C, GCCA-C)
(Intern – Grief Counselor & LPC Practicum)
My Grief Counseling philosophy: To listen with empathy, to guide with gentleness, to lead by experience, to support with nonjudgmental kindness. My significant losses and grief story are experiences to help me while companioning with you.
Education/school counseling is my second career, during which I quickly realized grief counseling is my passion. My grief journey includes: My closest grandparents died when I was in elementary school; my family divorced my senior year of high school; my best friend died in a car accident our freshman year of college; divorce; job loss; I had to make the choice to euthanize my 13-year-old dog; my husband's daughter died in a car accident; my husband died from cancer, followed quickly by my step-dad and my husband's father within the same year. Over the last 6½ years of intense grieving, soul searching, and rediscovering my purpose in life, God has placed me here, with you!
Grieving allows us to heal, to remember with love rather than pain. Grief is not the problem it is the solution. My goal for our time together is to help you adapt to your grief…to move forward in life.
I am a native Texan. I have a teenage daughter and a Golden Retriever. I enjoy walking my dog, reading, learning, doing yoga, and watching movies with my daughter. My credentials include a Masters degree in School Counseling from Lamar University; Certification in Grief – Adults, Children, and Adolescents from the American Institute of Healthcare Professionals. I am currently enrolled in the Professional Counseling program as a practicum student at Amberton University.
My personal mission statement: "I am the counselor's flame that creates peaceful, positive, purposeful connections, inspiring people through integrity and kindness."