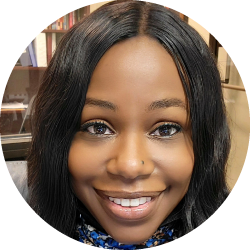 Destiny Thomas, Therapist
(LAC)
Do you find yourself overwhelmed by the complexities of life? Perhaps you're facing relationship issues, stress, or trauma or you're looking for direction to achieve goals and rediscover your passions. Dealing with these types of issues can be daunting especially if you feel alone, misunderstood, or unheard by those around you.
While providing a warm and safe environment, I approach therapy with empathy, compassion, unconditional positive regard, and no judgment. Through the use of individualized treatment methods and modalities, I will work with you to develop a plan and equip you with the tools to help increase your ability to function at higher levels and improve your quality of life.
I have a passion for working with late adolescents through adult individuals, couples, and families who are ready to move forward on their journey to healing and growth. It will be an honor to walk with you as these challenging spaces in your life are navigated.